The violence that occurred is no longer present, and all that is left is the picture once described

Sikarnt Skoolisariyaporn and Ryat Yezbick, November 2020, curated by Prima Jalichandra-Sakuntabhai
for the
MAHA Pavillion, Bangkok Biennial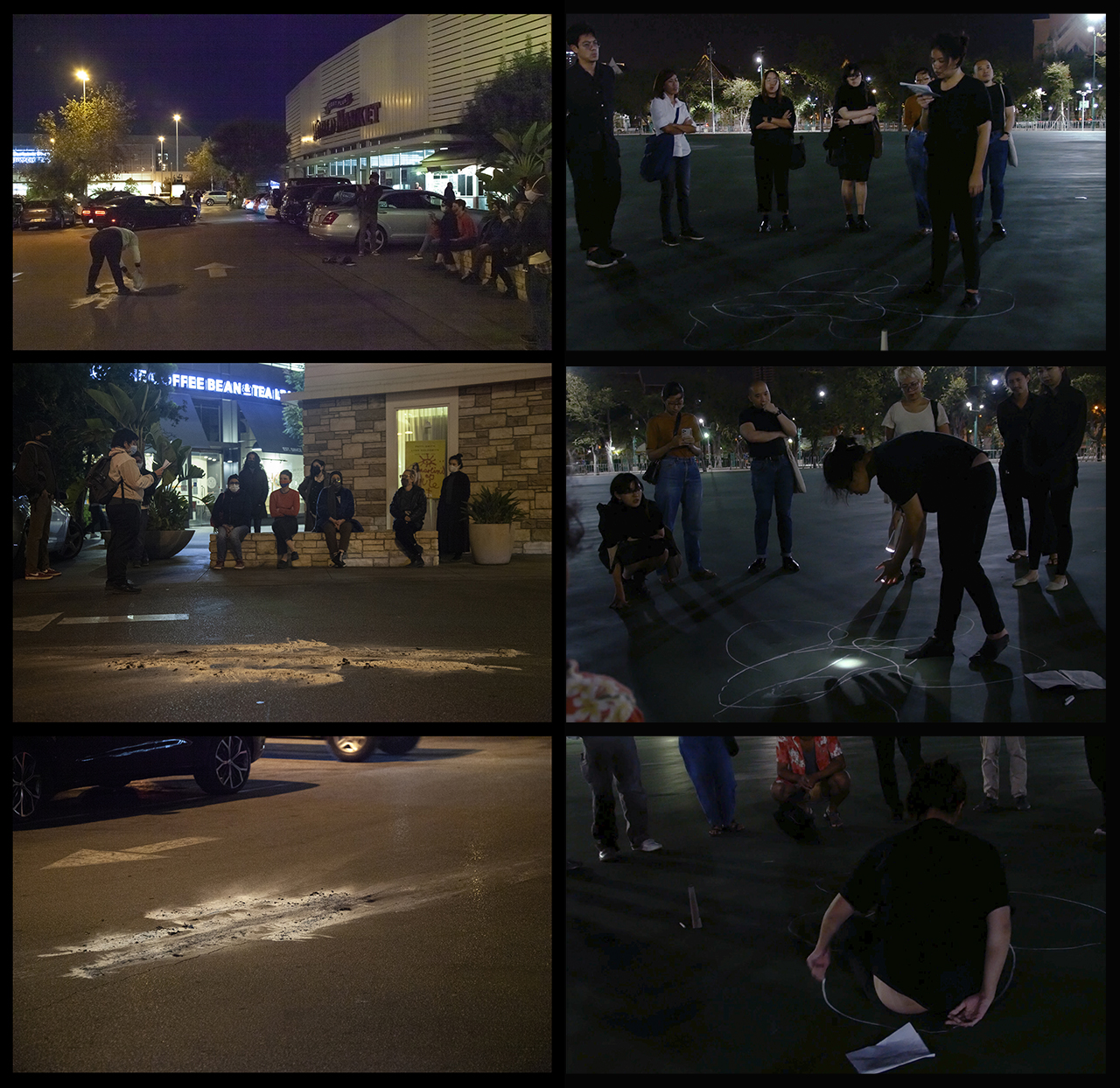 Documentation by Cedric Tai and Michael Honeycomb

Yezbick explores body politics and contested sites of representation through an intimate collaborative performance with Bangkok-based artist Sikarnt Skoolisariyaporn. For this work, the artists lent their bodies and sight to one another as proxies to explore each other's respective cities, Bangkok and Los Angeles, engaging with one another's worlds via phone tours, letters and personal memories of place. To contest highly mythologized and romanticized notions of these two cities, perpetuated by the film industry, the artists examined their own experiences to place, excavating the violence and vulnerability of the cities' inhabitants that is often hidden from view.

On November 11th at 5pm, each artist performed in their respective city a letter reading at the sites visited during the making of this piece, layering the two sites on top of one another and uncovering the symbolic space between the locations. The project occupies contested spaces – both personal and political, private and public – in an effort to understand how we desire and yearn for places that have been fabricated from legacies of violence. By inviting comparisons between location and the artists themselves, this work asks us to reconsider the place and production of contested knowledge, as perceptions that permeate both place and person, the material and immaterial.

For more on the work, please visit the following

link

for Southland Sessions by Anuradha Vikram.



Upcoming | Current
Tactics of Erasure at ReflectSpace, Glendale

Recent Exhibitions
Collision Practice at Human Resources and the LGBT Center

growth lies, pack of truth at Craft Contemporary, Los Angeles Opening October 1st - January 8th

Spillover, Durden and Ray at the Bendix building, Los Angeles

It's kind of a scary feeling, LAXART for X-TRA Summer Launch Party



Contact: ryat.yezbick [at] gmail.com


Photography: Hagen Betzwieser, Keelan O'Hehir, Jessica Wittman, Panayiotis Tsangas, Cedric Tai, Eleni Maligoura, Zach Korol-Gold, Gabriel Sweet


Copyright @2022 Ryat Yezbick. All rights reserved.